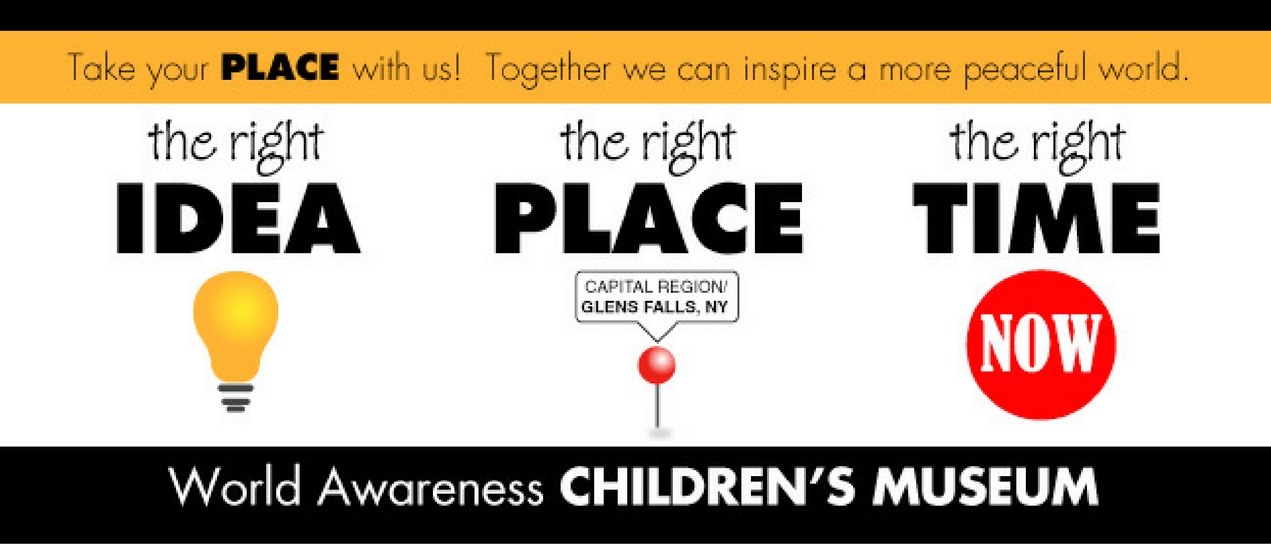 The Right IDEA
The World Awareness Children's Museum came to life 25 years ago to share ideas and exchange the cultures of children around the world in order to promote an appreciation of global diversity.  This vision inspired the Museum to be what it is today, a PLACE to bring our diverse world to children.
The Right PLACE
The Museum is a PLACE for children of our region to discover the wonders, cultures, and traditions of our diverse world in a positive setting of play and learning.  Last year we inspired over 8,000 people with engaging and interactive experiences through our play space go!, educational programs, and exhibitions of our international youth art collection.
The Right TIME
We must sustain this valuable regional treasure.  The World Awareness Children's Museum is a PLACE where children can create culturally-inspired and authentic experiences to help them form positive ideas about the people with whom they share the world.  With your help, we can continue to inspire a more peaceful world.
Please join us.
Every donation helps advance our mission of bringing our diverse world to children — an IDEA brought to life ina PLACE right here in Glens Falls, NY at a pivotal TIME in our history.
Donate online, by mail, by phone—whatever is convenient for you
We always welcome your generous gift – no matter how small or large. We are a 501(c)(3) non-profit organization and rely on tax-deductible donations to keep our global vision alive.
Donate online
You can easily make a secure online donation on this web site by selecting the "set your own amount" giving level.
Donate by mail
If you prefer to mail a check or money order, our address is:
World Awareness Children's Museum
89 Warren Street
Glens Falls, New York 12801
Donate by phone
Or, feel free to call us at 518-793-2773 to make a credit card donation over the phone.
---